Data Center Systems Integration and Support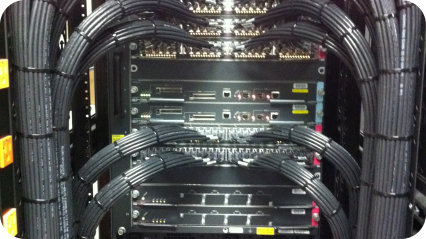 IE's approach to integrating large scale, sophisticated projects ensures deadlines will be met on time and exactly as expected, without surprises.
Utilizing a highly advanced organizational methodology we call DIG (Database Implementation Group), we've created a way to make all Systems Integration projects, large and small, run more efficiently than this industry has ever seen. It's all about staying organized. Generating equipment and materials orders, tracking and expediting progress, making certain both new and reused equipment is available exactly when and where it's needed.
DIG allows all of these processes to run more efficiently, but more significant is it's impact on the way engineers, project managers, and technicians work together when the system is actually being built. Organization is key.
IE believes in focused attention to detail. It's in the details where we achieve timely on–budget performance, well coordinated with all parties contributing to the project... from client stakeholders to other construction trades, equipment suppliers, and design disciplines.
Software Systems Integration
In today's evolving media environment, creating a reliable software backbone for your facility is more important today than ever before. IE's approach to software integration combines Service-Oriented Architecture (SOA) with an acute knowledge and awareness of the prevailing needs of media systems and architectures.
Our design engineers create reusable solutions, leveraging the current functionality of your systems and processes to save you money. By doing so, we ensure minimal impact to users and deadlines while delivering unique software solutions to solve your integration challenges.
Systems Deployment and Support
When it's time to launch, IE's experienced technical staff is in place to test and deploy all facets of your new system in an organized, meticulous fashion. We work extremely hard to ensure minimal disruption when critical processes go live.
Both before and after broadcast launch occurs, our support team is there to train and transition your staff to all new system capabilities. Customizable Support contracts are offered at variable levels of training, warranty, and maintenance support coverages.
In short summary, we understand you'll be using these systems in mission-critical environments 24/7/365 days a year. From start to finish, we're there to show you excellence in everything we put our hands to.