Fiber Optics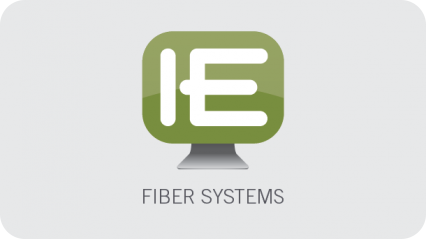 Optical Fiber cabling is by far the most common type used to interconnect IT rooms within a single building or in large campus environments because of the additional bandwidth it provides over longer distances. Fiber Optics are immune to lightning and Electromagnetic Interference (EMI), further adding to a list of advantages.
Optical Fiber Installation
Inspired Excellence is emerging as a leader in the Fiber Optic industry. IE Systems provides expert consulting, design engineering, and full implementation of all your infrastructure needs. From initial fiber installation to continued maintenance of your cabling, IE works closely with your team, providing experience and insight to further improve your project.
Copper or Fiber?
The benefits between using Copper or Fiber Optics to transmit data are no longer debated as widely as they once were due to the expansion of current technologies and lower equipment costs (on the Fiber side). Today, in 2014, Fiber Optics is the key to a thriving business platform. The cost to implement fiber has drastically reduced and the monetary gap between copper and fiber equipment has narrowed significantly. The use of fiber in mission critical environments has sky rocketed, and the ratio has shifted from 80% copper to 80% fiber as the primary method for transporting data at high speeds.
Another emerging technology is a telecommunications network called PON (Passive Optical Network). A PON is a point-to-multipoint network which provides all-fiber access to any Ethernet end point, including access points, wireless controllers, user devices, and application servers. Dividing a single optical fiber cable into separate strands using an Optical Splitter, a PON can provide over 7,000 IP voice, data, and video network connections to one Ethernet device. This Passive Optical Network (PON) is just one of many cutting-edge technologies IE is implementing for our customers.
IE Systems can help identify which fiber solution is most suitable for your current network while carefully considering the support of future bandwidth requirements. Look to IE for the design, installation, testing, and maintenance of your fiber optic system. Our complete turnkey systems are fully tested and certified from end-to-end, and all results are provided upon completion.