Security / Video Surveillance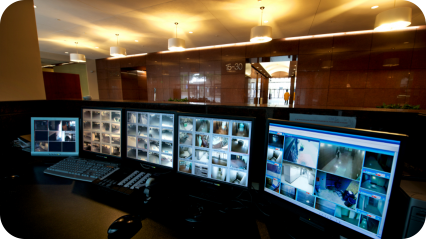 You should have the peace of mind knowing you've taken all necessary precautions to protect your business from unauthorized break-ins and fire, controlling access to secure areas of your facility, and monitoring your business by video surveillance remotely. IE can implement comprehensive security systems from CCTV video surveillance to burglar alarms, fire detection, armed guard response and more.
Secure your business by keeping watch on your property and valuables. IE Commercial Video Surveillance systems offer protection from threats internally and externally. We utilize modern features of commercial video monitoring sytems including integration with burglar alarms and access control. The list goes on.
Leading-edge business video surveillance solutions provide recordings of the past and a real-time picture of what's happening right now, including options to trigger alarms based on motion or other customer-determined site events.
Closed Circuit TV Systems (CCTV)
Digital Video Recorder Solutions
Standard, HD, and MegaPixel Systems
Mobile Access and Control (via smart phone or tablet)
Custom Video Analytics (motion trigger, virtual trip-wire, customer determined event, etc.)