Smart Home Technologies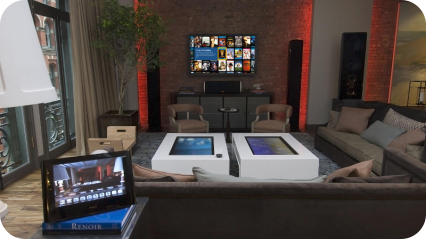 Inspired Excellence is a Home Automation installation company. Smart Home Technologies are becoming more and more common as homeowners utilize today's technological advances to make "normal" home life easier. Imagine the ability to control nearly every electrical aspect of your home (Music, TV/Home Theater, AC, Indoor/Outdoor Lighting, Security system, Sprinkler system, pool temperature) ......from your phone. Do you currently enjoy listening to your music library or internet radio in your car or with headphones on at work? How would like to do the same in your bedroom, your kitchen, your living room, the back deck, front porch, basement.....wherever you want to......and control the volume and music selection from your phone? This is pretty cool stuff, and you may be surprised at how affordable it is to make your home a Smart Home.
Why choose Inspired Excellence to install your Home Automation system? First of all, you'll want us to install it because our standards for installation are far and above the competition. Our installation team has been on some of the most high-profile Broadcast Television Installation projects in the world, and we carry those same professional standards into your home. It's that simple. To get a better idea of the kind of quality work you can expect from us, take a look at some examples of our work in the IE gallery.
Secondly, we'll match any competitor's price. Submit a quote from any of our competitors for the same size system, and we'll match it......plain and simple. In doing so, you're guaranteed to receive both the best price and the best quality installation available. Our team has become a collection of experts in Smart Home installation, and we'll custom design the "right" system that perfectly fits your needs and your budget.
Feel free to contact us to receive a simple and affordable free quote.